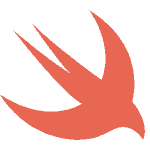 The Best Swift Bootcamps of 2021
Whether you are a budding programmer or an expert in the field, Swift is a relatively easy programming language to learn. According to Apple, Swift was designed to be the first programming language for beginner software developers to learn. If you want to learn to code, Swift is a great place to start.
If you want to learn Swift, it is possible to do so on your own. However, a bootcamp can teach you much more efficiently. Enroll in one of the best Swift bootcamps for a stress-free learning experience.
What Are the Best Swift Bootcamps in 2021?
The best Swift bootcamps in 2021 combine curriculum, career services, and job opportunities. Swift is not the most commonly used programming language, but there are still plenty of bootcamps to help you learn it.
Big Nerd Ranch is an online coding bootcamp that offers 11 courses to choose from. Every course involves web services, Android, or iOS skills. If you want to learn Swift, you should enroll in the Swift Essentials program or the iOS and Swift Essentials program. Both will teach you how to learn Swift, but the latter also focuses on iOS development.
If you are looking for a quick program, Swift Essentials only takes two days to complete. If you prefer a more extensive education with iOS, you'll want to enroll in the seven-day iOS and Swift Essentials course. The programs at Big Nerd Ranch cost between $3,000 and $5,200.
BrainStation is one of the most prestigious bootcamps internationally. It has campuses in Canada, the United States, and even the United Kingdom. While it offers many programs, you should enroll in the in-person or online iOS development course to learn Swift.
This course will take you through the fundamentals of iOS development as well as all of the Swift libraries. You can enroll full-time or part-time and complete the course in five to 10 weeks. The curriculum is project-based and can help you build a hands-on portfolio. You can apply your skills in fields such as digital marketing, data science, and mobile development.
CareerFoundry is often considered a web development bootcamp, but it offers a few different programs. In the web development bootcamp, you can learn a little bit of everything. This means you will work directly with mentors who can teach you Swift for iOS development.
This program is offered online with both a full-time and a part-time option. In the full-time option, you will spend four months studying for 30 hours per week. The part-time option asks for seven months of studying for 15 hours per week. Both schedules cost $6,555 upfront or $6,900 with a payment plan.
Another prestigious bootcamp on this list is Coding Dojo. This school offers a few different programs, with the most popular being software engineering and data science. In the software engineering program, you will learn important programming languages such as Java and Swift.
The software engineering program at Coding Dojo can be taken online or onsite at one of the bootcamp's many locations. The course curriculum covers a few different stacks. First, you learn the web fundamentals, then Python, then MERN, and finally C#. This program costs $15,475 full-time or $7,745 part-time. Coding Dojo offers financing options to help you.
Devmountain is a coding bootcamp with locations in Lehi, Utah, and Dallas, Texas. It also offers completely remote options. This school has five different programs, and the best one to learn Swift is the iOS development program. You will learn the essentials of Swift, XCode, and Objective-C. These technologies are all used for Apple products.
The programs at Devmountain cost $4,900 to $9,900 full-time or $4,500 to $7,900 part-time. You can pay for the tuition via an upfront payment or by taking out a loan from one of Devmountain's loan partners. This bootcamp is fairly affordable compared to other options.
Lambda School is a popular bootcamp with a high employment rate. It offers a couple of different programs, which include full stack web development and data science. Both are fantastic for anyone pursuing a tech career, but the web development program is the way to go for learning Swift.
The school used to offer both an Android and an iOS development program, but has since cut both options. However, the full stack web development program has picked up the slack. It continues teaching common programming languages for careers in development such as JavaScript and Swift.
Based in Canada, Lighthouse Labs proudly offers two full-time programs and five part-time programs. Each focuses on some area of web development, data science, or data analytics. The full-time web development program is a great way to learn the fundamentals of development. You'll learn languages such as HTML, CSS, Babel, and Swift.
This program takes approximately three months to complete and costs $9,500 to $13,000 depending on which package you choose. Note that these prices are in Canadian dollars. Both package options require a 10 percent deposit, and the rest is paid back on a payment plan.
Noble Desktop is a coding bootcamp that offers a wide array of language programs and certificate classes. This bootcamp offers a specific set of Swift training classes. The course is offered either at the New York City campus or totally online, and can be completed after 18 hours of Zoom courses.
This iOS app development course costs only $975 in tuition. While enrolled, you will work with Swift and XCode to build apps and other projects, which can be used in your professional portfolio. Noble Desktop also offers free retakes for this course in case you need a refresher.

OpenClassrooms is a mixture between an online bootcamp and a course provider. It offers both bootcamp paths and individual courses for you to choose from. One of the various programs you can enroll in is the iOS developer program.
This course offers the equivalent of a bachelor's degree in iOS development upon completion. It takes approximately 12 months to complete. The program only costs $300 per month, which is the OpenClassrooms way of making the tuition more affordable for everyone.
Tech Talent South has locations all over the Southern United States. It also has a remote campus option. To learn Swift, you'll want to enroll in the iOS application development program. This course takes only six weeks to complete and costs $3,250 in tuition. This can be paid upfront or you can contact an advisor to discuss payment plans.
While enrolled in this part-time course, you will learn Swift and many other iOS and Apple technologies. The curriculum dives into MVC, XCode, Storyboard Segues, how to connect UI to code, how to incorporate APIs, and so much more.
What Is a Swift Bootcamp?
A coding bootcamp is an educational alternative for those who want to become data scientists, web developers, or simply work in tech. Bootcamps offer a certificate equivalent to a bachelor's in data science or computer science from a university. The key differences between bootcamps and colleges are the cost and the time spent learning.
A Swift bootcamp is a coding bootcamp that focuses specifically on teaching the programming language Swift. All of the bootcamps listed above are considered Swift bootcamps, as they all offer Swift-related programs or courses. This is the best way to learn Swift in 2021.
How Much Do Swift Bootcamp Programs Cost?
Every bootcamp is different, and the cost will depend on what type of program you enroll in. If you want a low-cost option, you should look for a part-time online program. However, if you are okay with paying a bit more, you can enroll full-time.
For Swift bootcamps, you will end up paying anywhere between $975 and $16,000 depending on where you enroll. It is important to determine your budget prior to searching for bootcamps so you know exactly what you can afford.
Are Swift Bootcamps Worth It?
Yes, Swift bootcamps are worth it. Swift is a relatively easy programming language to learn, and while you can do so on your own, you might get lost in the process. Learning Swift through a bootcamp can help you learn easier and faster. You can also learn many more skills that you can't find on your own.
It is up to you to decide if a Swift bootcamp is worth your time and money. If you only want to learn Swift and do well teaching yourself, the bootcamps might not be worth it. However, if you do better learning from an instructor and want to learn more than just Swift, a bootcamp is the perfect solution.