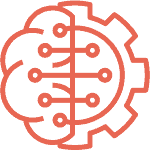 The Best Artificial Intelligence Bootcamps of 2021
Artificial intelligence (AI) is a subdiscipline of computer science that has come to mean many things. Generally, AI is defined as the simulation, in computer systems or machines, of the decision-making intelligence required to perform tasks. To qualify for a high-paying job in this rapidly growing field, you can enroll in one of the best artificial intelligence bootcamps.
AI is expected to play a huge role in our world. Scientists and engineers are working hard to perfect the technology and figure out all of its possibilities. While AI still has a long way to go, investors are eager to fund its evolution. Given the massive potential for continuing growth, now is the perfect time to fund your education in artificial intelligence.
What Are the Best Artificial Intelligence Bootcamps in 2021?
Since AI is a broad subject, choosing the right bootcamp may seem difficult at first. There are many factors to consider, such as tuition, scheduling, and hardware resources. These are all important, but most important of all are the kinds of knowledge you will acquire.
The best AI bootcamps are the ones that take your knowledge from point A to point Z in a career-oriented way. To help you make an informed decision, below is a list of the best artificial intelligence bootcamps.
BrainStation provides various tech bootcamps. Among them is the Data Science Bootcamp, which is currently offered online. This bootcamp is a full-time immersive program that enables its students to master data analytics.
The topics included in the curriculum are data fundamentals, machine learning techniques, big data fundamentals, and analysis for data science. As the learning process progresses, students gain exposure to data visualization tools for collecting and transforming data. The school also offers career coaches for those who want to improve their data science portfolios.
BrainStation's Data Science bootcamp costs $15,000. You can explore your financing options by scheduling a call with one of the school's learning advisors.

Evolve Machine Learners' data science bootcamp has a special track for aspiring data scientists who want to focus on artificial intelligence. In this course, students will learn some of the most in-demand data science and machine learning tools. Students immerse themselves in the essentials of data handling, supervised learning, and convolutional neural networks.
The course requires students to use PyTorch technology for course projects. At the end of the program, students will be proficient in real-world applications of this technology.
The school also provides mentorships and job placement opportunities to help its students land jobs in the tech industry. The course is currently offered online as a three-day workshop, and its cost varies.

Heicoders Academy has two options for students who want to learn artificial intelligence. One is the Python Programming and Data Visualization bootcamp, and the other is the Applied Machine Learning bootcamp. The first of these tackles how to use Python for building geospatial visualization projects, while the second deals with advanced machine learning models.
Each of the two AI bootcamps costs $600 and runs for eight weeks. Aside from technical training, the school offers on-demand consultation services to guide students through their learning process.
Holberton School is a computer science school that provides an artificial intelligence course. Its machine learning bootcamp lets students build real-world projects using the latest AI technologies. Topics covered include data structures, algorithms, programming languages, APIs, databases, and DevOps.
Students will also be exposed to advanced technologies and concepts like computer vision, recommender systems, autonomous driving, and natural language processing. If you have a passion for coding and want to become a machine learning engineer, then consider immersing yourself in this program.
With a few exceptions, Holberton School courses are only available onsite, at one of its many international locations. Visit the website to find the campus nearest to you.

Another school that provides a data science bootcamp is HyperionDev. With its comprehensive bootcamp, students will learn topics in data analytics and machine learning. This course also encourages students to use Python to solve data science problems.
The benefits of this bootcamp are many. You'll learn about natural language processing, object-oriented programming, and data visualization. Students will also develop the competency to define and use functions in Python. If you want to enhance or develop your coding knowledge, you might want to consider this bootcamp.
HyperionDev's part-time data science bootcamp costs $3,945 and goes for six months. Its full-time program lasts three months and costs $4,995. This course is only available online.
Kal Academy is a coding bootcamp for women who want to excel in the tech industry. Aside from software and web development courses, the school provides an artificial intelligence program for aspiring data scientists.
The AI bootcamp is divided into three sections. The first part introduces students to Python, statistics, and key AI concepts. In the second part, students immerse themselves in deep neural networks and algorithms, using Python libraries for data manipulation. During the last part, students will learn advanced techniques for solving data science problems.
Kal Academy's artificial intelligence bootcamp is only offered in Redmond, Washington. It runs for four months and costs only $2,500.
Another school that teaches artificial intelligence is Lambda School. Its data science curriculum covers machine learning concepts such as natural language processing, neural network foundations, and some cutting-edge AI architectures.
The course lasts six months on a full-time schedule and 12 months on a part-time schedule. Within this period, students will thoroughly learn statistical fundamentals, predictive modeling, and data engineering. In terms of career development, you will have access to career coaching, consultation on your application materials, and interview training.
Lambda School is known for its unique payment options. You can sign an income share agreement, under which you will only start paying the cost of your bootcamp after you're hired. Other payment options include a retail installment contract for California residents, installments, and upfront payment.

The data science bootcamp at Le Wagon equips students with the skills to become effective data scientists. The course fosters a learning environment where students learn to transform data into actionable insights. With Python as a tool, students learn how to build machine learning models from scratch.
The course curriculum covers machine learning, deep learning, and data engineering. Students will build data science projects to showcase their skills at the end of the program. The school also offers career services to help its students land top Python jobs. Additionally, the school organizes networking events and job fairs with some of the best tech companies.
You can enroll in the data science bootcamp at one of many Le Wagon campuses around the world. To view the list of campuses, visit Le Wagon's website. The course is available on a full-time or part-time schedule. The cost depends on the location.

Python enthusiasts can benefit from theDevMasters' Applied Artificial Intelligence program. This course equips students to use essential Python packages for machine learning and AI projects.
During the process, students will learn key AI concepts like the k-nearest neighbors algorithm, filtering, and natural language processing. They will use all the stages of logic programming to perform all the required course activities.
You can take the Applied AI course in Los Angeles, Irvine, Santa Monica, or online. The program runs for eight weeks and costs $14,995. To learn more about theDevMasters' financing options, you'll need to submit a request through its website.
The Data Science Career Track at Springboard includes a unit dedicated to machine learning, where you will learn some of the most popular AI concepts. These include linear and logistic regression, clustering, and decision trees. You will use several metrics to evaluate the performance of AI algorithms, combining theoretical knowledge with experiential insights.
This data science bootcamp costs $8,940 and runs for six months. Once you enroll, you will be provided with a mentor to guide you through the learning process. When you pay upfront, you'll be given a discount of up to 16 percent. Other financing options include monthly installments, a deferred tuition plan, or a loan from Climb Credit.
What Is an Artificial Intelligence Bootcamp?
An artificial intelligence bootcamp is a training program where students learn the essentials of machine learning. Since artificial intelligence is a broad subject, the content of the programs varies from bootcamp to bootcamp. The artificial intelligence bootcamps on this list are a great way to fast-track your learning process for a career in data science.
Most bootcamps are designed to meet the demands of the tech industry, so finding an artificial intelligence bootcamp with an updated curriculum should be easy. Besides teaching you in-demand skills, AI bootcamps also feature career services to prepare you for your chosen career.
How Much Do Artificial Intelligence Bootcamp Programs Cost?
The cost of an artificial intelligence bootcamp depends on what the program includes. The average cost is about $7,000. Fortunately, most bootcamps offer loans and other financing options so that you don't have to pay the full cost upfront. The most common payment methods for AI bootcamps are monthly installments and income share agreements (ISAs).
Are Artificial Intelligence Bootcamps Worth It?
Diving into the field of artificial intelligence may be a huge step for your career. If you're still in the process of deciding whether to join an AI bootcamp, assess whether a career in artificial intelligence is something you can embrace in the long run. If this is your passion, then attending one of the best artificial intelligence bootcamps is an excellent way to start a career in tech.
The field of AI is rapidly growing. If you work on the frontlines of this cutting-edge technology, your value will skyrocket. With the help of a well-crafted bootcamp curriculum, you may just rise to the very top.