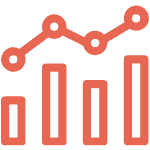 The Best Data Analytics Bootcamps of 2021
In today's digital world, businesses increasingly rely on data analytics to drive growth and success. As more business owners value this science, the demand for data analysts increases. So, now is a good time to learn data analytics.
Data analytics bootcamps are cropping up everywhere to meet this demand. They offer a faster way for you to launch your tech career in comparison to lengthy university studies. Get to know why attending a data analytics bootcamp will elevate your career prospects. This comprehensive guide underscores the best available data analytics bootcamps.
What Are the Best Data Analytics Bootcamps in 2021?
If you are looking for an excellent data analytics course today, you will find an avalanche of information online. The process of selecting a data analytics bootcamp is not as straightforward as you may expect. We have narrowed down your search to the best data analytics course providers.
However, do check with individual bootcamps about their COVID-19 response. Take a look at the data analytics bootcamps below.
CareerFoundry is renowned for helping thousands of students find a job in the tech industry. CareerFoundry courses cover topics including data analytics, web development, and UI/UX design.
The CareerFoundry Data Analytics Program is available online. It will take you 32 weeks to complete the curriculum. This is an ideal program for beginners and experts alike, and the coding bootcamp designs all its courses to get students job-ready in months.
This program is popular amongst both career-changers and newbies because of its dual mentorship program and a job guarantee. To ensure you sail through the bootcamp, students work in pairs with a personal tutor and a mentor. And with a high job placement rate, you will end up in a reputable tech firm.
You can attend the beginner-friendly course in data analytics before moving on to the main course. This prep program will help you acquire data analytics skills in a month. If you have a busy schedule, you can spread out the 15 hours each week over the weekend and evenings.
The online coding bootcamp is offered at $6,900, and the introductory courses cost $590. However, you will receive a full refund of these fees if you do not land a job within six months of graduation.
Are you looking for a flexible learning schedule that takes into account your work commitments? Try General Assembly's Data Analytics Bootcamp. You can attend the bootcamp program online, part-time, full-time, or on-demand.
You can attend the bootcamp program in Los Angeles, Minneapolis, New York City, Salt Lake City, San Francisco, San Diego, Seattle, Washington DC, and many more cities.
The school curates training programs to meet the current market needs for professionals. So, you will learn only what is relevant to your career path and goals. Some of the tools you will use to achieve reliable analysis insights include Tableau, SQL, and Excel. You will also learn how to write a data analyst resume and land a job in a few weeks.
Paying $4,174 for the Data Analytics Bootcamp may be a stretch for some students. This is why the school offers finance choices. These include the Catalyst program, payment plans, employer sponsorships, and a tuition discount for women.
However, you are not limited to data analytics at General Assembly. Whichever tech career path you want to pursue, there is a course for it. You can then become a data scientist, product manager, front end web developer, UX designer, or software engineer.
General Assembly boasts a high job placement rate for its global alumni which numbers just over 70,000. In addition, the majority of these graduates are working with top companies such as Microsoft, Condé Nast, Visa, and Google. Could you be joining them?
NYC Data Science Academy's reputation cuts across data-related careers. The school offers online full-time immersive courses to learn data analytics and data science. If you are interested in beginning your journey as a data analyst, sign up for a beginner-friendly data analytics course. To gain data science skills, you can sign up for the courses listed below.
You can opt to learn R in data analytics and visualization, giving you an edge over the competition. There are many data scientists and even more aspiring students of data analytics. So, to gain traction in the industry, you may also need to learn Python, This programming language is one of the most commonly used in data careers.
NYC Data Science Academy acknowledges that not all students have prior experience in coding or know what data science is, precisely. You will find introductory courses to help you learn Python, R, and data science with Tableau. You can choose to attend the bootcamp prep, which is also a great option if you want to learn about the topic and gain an advantage during the admissions process.
There are other courses available to help you launch your tech career with ease. These include Data Science in R, Data Science Mastery, Big Data, R in Machine Learning, and Deep Learning With TensorFlow.
How does a salary increase of $26,000 sound? This is the average return for attending a Springboard data analytics course for a few short weeks. You can become a machine learning engineer, data scientist, UX designer, web developer, cyber security analyst, or big data engineer.
The school provides a project-based curriculum to help you gain career-led skills to navigate the tech scene. You can attend the Data Analytics Bootcamp online or in-person. Currently, most students attend the programs online due to the pandemic.
The Data Analytics Bootcamp will teach you different problem-solving frameworks and processes. You will also learn structured thinking using different case studies and problem-solving worksheets to present your findings. In just 24 weeks, you will progress to an advanced level in data analytics.
Springboard offers strong career support. You will be partnered with three experts to advise you along your academic journey. These are a career coach, personal mentor, and student advisor. You will also be connected to the Springboard community.
Springboard's mock interviews and optimized job search ensure you will be job-ready. As part of its career service, you will tackle possible data analytics interview questions. The team will also train you on technical and behavioral interview case scenarios.
To enroll in the Data Analytics Bootcamp, you will need to pay $6,600. If you decide to pay upfront, you will receive a 17 percent discount. The school partners with different loan providers, such as Climb Credit, to offer financial aid to students. You can also take advantage of the monthly installment plan or deferred tuition options.
The Berkeley Online Data Analytics Bootcamp will train you to become a successful data analyst. In 24 weeks, you will cover the fundamental aspects of data analysis. You will learn R, Python, machine learning, Tableau, and SQL. These are essential languages for a data analyst career.
The structured flexibility attracts most working individuals. You do not need to struggle to balance your work and life at UC Berkeley Extension. The instructors and mentors will give you ample support to achieve your career goals.
Today, learning institutions lean towards providing students with real-life work experience before they graduate. This is especially true of UC Berkeley Extension. You will undertake many real-world projects that mimic a data analyst's professional environment. So, you will be tech job-ready upon graduation. The bootcamp will cost you $11,995.
You can also find exceptional courses at UC Berkeley Extension in data science, data administration, digital marketing cyber security, amongst many more. Your dream of launching a successful tech career can begin right here.
What Is a Data Analytics Bootcamp?
A data analytics bootcamp provides students with an immersive experience to gain strong analytical skills. If you have zero experience handling data, bootcamps are the best bet for starting a career in tech. The schools provide fast-track courses that will help you land a job in a matter of weeks.
Becoming a data analyst in 2021 will require you to have a spectrum of hard and soft skills. An immersive bootcamp will ensure you gain relevant industry knowledge and garner additional skills to give you a competitive edge. To have a successful career, you will learn SQL, spreadsheets, critical thinking, data visualization, machine learning, and data warehousing.
According to ZipRecruiter, a data analyst practitioner in the United States earns $32.35 on average every hour. The majority of data analysts who attend bootcamps earn an average of $62,453 each year. Over 4,000 hiring companies are looking for new talent in data analytics. So if you want to become a business analyst this year, you have plenty of incentives.
Most data analytics bootcamps feature courses in data science. However, if you want to become a data scientist, attending a data scientist bootcamp is your best bet. To cement your decision, it's helpful to establish the difference between a data scientist and a data analyst.
How Much Do Data Analytics Bootcamp Programs Cost?
Data analytics bootcamps feature a wide range of tuition costs. You can pay as little as $1,000 and as much as $20,000. The bootcamp you select, its location, and type of program affect the tuition fees for a course in data analytics.
If you qualify for bootcamp scholarships or financial aid, you can significantly reduce tuition costs. Women, veterans, and military family scholarships help increase the representation of the minority in the tech industry.
Are Data Analytics Bootcamps Worth It?
Yes, they are worth it. Data analytics bootcamps provide plenty of benefits that trump those offered by university degrees. Would you prefer to attend a four-year degree course or gain better experience via a fast-track course in data analytics?
To become a successful data analyst, it is not enough for you to attend data analytics classes. You must learn the soft skills required to land and maintain a data analyst job. You must also learn how to craft a formidable data analyst resume and LinkedIn profile to impress prospective employers. These requirements are covered in a data analytics bootcamp.
Data analytics bootcamps will help provide you with a career-oriented curriculum. While the number of graduates with university degrees is relatively high, so are the figures for unemployed graduates. If you learn data analytics in any of the bootcamps mentioned, you will get a job after graduation. Not all bootcamps offer a job guarantee, but you will get extensive job support.